SHANGHAI, Feb. 26 (Xinhua) — BEST Express, a unit of the Chinese supply chain firm BEST Inc. (NYSE: BEST) in east China's Zhejiang Province, on Monday transported 43 non-local staff back to its Shanghai transit center with two chartered buses to help them resume work amid the novel coronavirus pneumonia outbreak.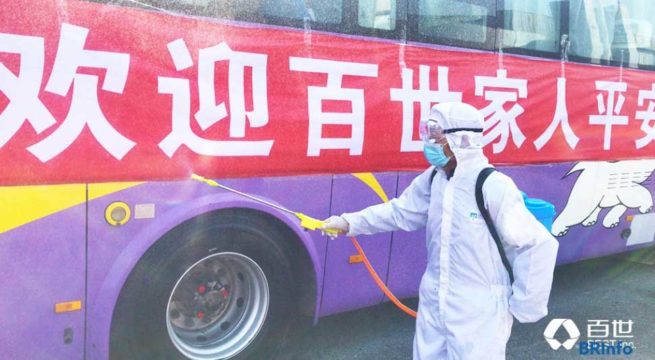 It is reported that before sending buses to pick up these staff from Zhoukou, a city in central China's Henan Province, the company had made a detailed transport and quarantine plan, and confirmed these staff's rework certificates, ID cards and physical conditions as qualified.
Every passenger was required to wear masks, have body temperature checked before boarding the buses and before entering Shanghai, and keep one seat away from other passengers on the buses which were also sanitized before going into the firm's Shanghai transit center.
According to the company's plan, these staff will be quarantined for 14 days before going back to work.
«The well-being of employees is our top priority and we are pleased that they have returned to Shanghai safely by chartered buses. We will continue to closely monitor their physical conditions during the quarantine period to make sure they don't get sick or show any symptoms before returning to work,» said Mao Junxing, General Manager of BEST Inc.'s Shanghai Division.
The move is part of the firm's efforts to resume operation across China.
It's learned that since February 10, the transit centers of BEST Express in 29 provinces (autonomous regions and municipalities) except Hubei and the Xinjiang Uygur Autonomous Region have all resumed normal operation, with corresponding service stations resuming pickup and dispatch services.
It's also learned that since resuming work from February 4, the Shanghai transit center has seen half of its employees back to work, and 96 percent of BEST Express's 181 service stations in Shanghai have resumed work.
To accelerate the recovery of full operations, BEST Inc.'s Shanghai Division is considering chartering more buses to support other non-local workers facing travel difficulties to back to work.
It's reported that BEST Inc. has kept contributing its leading logistics services to supporting coronavirus relief efforts since the epidemic outbreak, and so far it has arranged 73 vehicles to deliver over 640 tonnes of medical and relief supplies worth more than 28 million yuan for free to areas affected by the epidemic.